Testimonials
Shared Alliance Insurance works hard to provide the best overall experience in the insurance industry. There is no greater compliment you can pay us than to write a review of your positive experience with us. If you feel so inclined, we would be grateful if you shared your experience with others. Please take a moment to write a short positive review or comment about our agency and services.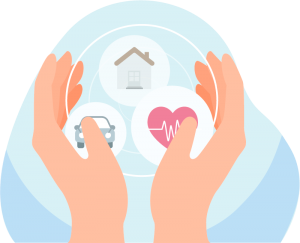 Great overall experience with the company. All the workers are very friendly, helpful and understanding. I will be coming back once I purchase my next vehicle.
Very friendly and fast service. They worked around my schedule and only tried to sell me what I wanted, not a bunch of stuff I didn't need.
Great service and savings with better coverage was my experience with Shared Alliance Insurance. Zach carefully reviewed by insurance needs for home, auto and umbrella coverage and I saved over a $1,000 a year! I highly recommend Shared Alliance Insurance to anyone looking for an independent agent who can find the best price from the among the best ranked insurance companies in America.
I recently purchased a new car and the staff at Shared Alliance made the switch easy and painless. I had a quote in minutes when I was making a decision whether to purchase the vehicle or not. Then, once I decided to purchase it, they had my coverage in place immediately. What's even better is that my premium barely changed. I enjoy working with the agency and appreciate the service and value they provide.
Words cannot express how happy I am that I found Shared Alliance.  My previous insurance provider was getting way too expensive and Shared Alliance was able to locate a provider to fit all my insurance needs along with being at a lower cost! The agents at Shared Alliance helped me greatly and were enjoyable to work with.
Shared Alliance Insurance, Inc is awesome to work with! They are quick to respond to any questions or needs that arise and are always looking out for the customer's best interest! They help find the best product to match your needs and take care of you through the whole process!
Zach at Shared Alliance is so wonderful to work with. He answered all of our questions and is on top of everything! We really feel confident in Zach taking care of our insurance needs. Anyone that works with Shared Alliance will be very happy with the superior level of service they will receive.
Zach Bartness and Shared Alliance Insurance has done a great job for me and my business. They have helped be with several personal and business policies. I recommend them to anyone looking for cost effective insurance with proper coverages.
My husband and I absolutely love having a personal insurance agent! It has been so beneficial to have business and personal insurance that is tailored to my specific needs.
My other insurance canceled our policy due to claims and Brad got us covered! Excellent customer service! Highly recommended!